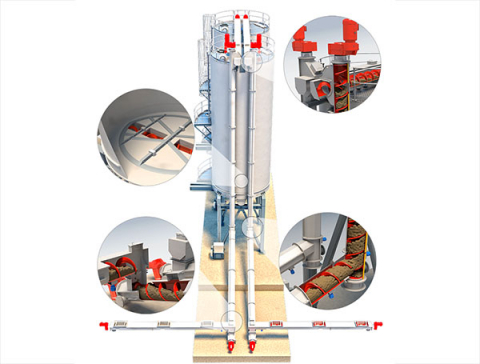 For any facility involved in the processing of wastewater, sludge is an unavoidable byproduct. The primary aim of this treatment is, after all, the removal of semi-solid matter from water, and once removed from the liquid that matter has to go somewhere.
Transporting and storing this material is of critical concern for facilities. Having a system that can move sludge efficiently from the point of separation from wastewater into a storage facility, and then from storage to disposal, is an important consideration for any organisation looking to upgrade or augment their current handling solution.
SPIRAC's shaftless spiral solutions feature totally enclosed troughs, with no chance of material or odours escaping.
Handling sludge with the right equipment
Sludge processing facilities obviously need equipment robust enough to manage the material once it has been extracted from wastewater. A primary concern will be having a fully enclosed system in place, eliminating the chances of harmful spillage and offensive odours.
For conveying purposes, SPIRAC's shaftless spiral solutions feature totally enclosed troughs, with no chance of any of the material or odours escaping on the way to or from your sludge silos. Whether in horizontal, inclined or vertical configuration, all of SPIRAC's conveyor solutions are designed for the transportation of difficult to handle materials such as wastewater sludge.
When it comes to storage equipment, there aren't a lot of solutions that have the usage history and versatility of silos. It is important to understand the variations in silo technology, and which system is right for each type of facility. The most significant difference between versions of SPIRAC's rectangular and round silos lies in the bottom, with sliding-frame and live-bottom being two distinct options. Which is the right choice for your?
Which silo type is the right choice for your sludge?
Sliding-frame silos
Available in both the rectangular and round silo configuration, the SPIRAC sliding-frame is designed to keep bulk material buildup that can cause potential blockages at the bottom of the silo. The hydraulically powered frame is designed to break up any "bridges" - collected material that can gather and solidify over the extraction screw - and help direct that substance toward a discharge point in the silo.
An effective choice for facilities that frequently handle dewatered sludge, the SPIRAC sliding-frame silo features a simple operation with few moving parts. That means your maintenance concerns should be minimised, operation is exceptionally reliable and power consumption remains low. 
Live-bottom silos
For facilities that regularly handle sticky sludge, SPIRAC's live-bottom silo may be a more suitable option. They're custom designed with storage, transfer and outloading of dewatered sludge in mind. 
Unlike the sliding-frame silo, a live-bottom features multiple spiral screws - usually from two to eight depending on the size and intended use. Running side-by-side, the movement of the screws ensures material bridges, and blockages are unable to form. 
Similar to the sliding-frame, live-bottom silos run at a very low RPM, ensuring minimum wear and maintenance is required. Through normal operation, inspection of the units should only be required every 5-10 years, with the components themselves lasting as long as 20 years. 
Need to know more about silos?
SPIRAC's silos - both sliding-frame and live-bottom - are available up to a size of 1,000 cubic metres (35,000 cubic feet), in high-spec mild or stainless steel. Given the nature of their use, corrosion protection is also a feature, with a range of specifications available. 
For more advice on sludge handling equipment, get in touch with the experts at SPIRAC today