Submitted by

globaladmin

on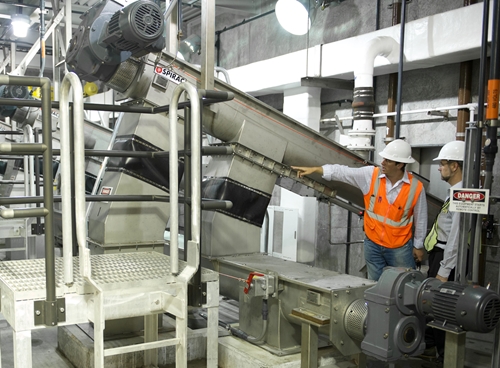 In the field of material handling systems, there are a number of different options when it comes to conveyors. In this article, we're going to look at the features and benefits of horizontal conveyors, and how the solution can offer your organisation an advantage over the alternatives.
The horizontal shaftless screw conveyor from SPIRAC is designed to cope with the transportation of the toughest materials, in a wide range of moisture contents and viscosities. With excellent build quality and features, they can aid organisations in a number of ways.
Tough materials for longevity and strength
SPIRAC's horizontal conveyors are made from top quality materials, ensuring their effectiveness and durability. Given the intensive nature of the many material handling industries the system is designed for, having confidence that the tools are up to the task is paramount.
Trough. While most often the U-trough is made from stainless steel, SPIRAC also offer the option of a painted or galvanized mild steel construction. For particularly harsh or corrosive environments, however, a fibre reinforced polymer (FRP) or glass reinforced polymer (GRP) solution is also available. Offering greater protection from corrosion at a much lighter weight, it's a robust option for specific needs.
Spiral. The centrepiece of SPIRAC's horizontal conveyor is the shaftless screw system. For the spiral component, high tensile micro-alloy steel (HTMAS) has been cold formed and welded into multiple layers to provide extremely high strength, corrosion resistance and long life. The mechanical properties that result from this process result in exceptionally high tensile strength. 
Liner. As an added layer of protection for the trough, the Duraflo®SPX liner is crafted to ensure a long life, with a combination of thickness and formulation resulting in a low-wear product complete with added hardeners and integral lubricant. Also, a two colour wear indicator can easily display when the time has come to replace the liner, which is a simple snap-in, snap-out process.
Advantages of horizontal shaftless screw conveyors
With such sturdy materials, SPIRAC's horizontal conveyors are suitable for a number of industries and their material handling requirements. That strength is complemented by the power of the equipment, meaning it can get the job done with fewer delays and less maintenance. 
SPIRAC's horizontal conveyors are ideal for a number of material handling needs.
Driving the operation of the shaftless screw conveyor is the high-torque gearbox, allowing the unit to accommodate a 100 per cent load capacity utilising a near complete cross-section of the trough. That means there are minimal restrictions to impede material flow, with a single gearbox able to drive continuous runs of up to 50 metres. 
For wastewater management, slaughterhouses, rendering plants and food or other biowaste, one of the major concerns is odour and mess containment. SPIRAC has this concern covered as well, with a totally enclosed conveyor preventing oppressive smells or accidental spillage.
The system is also highly adaptable, and can be customised to suit your location and existing equipment. If space is limited, the solutions allows for complex geometries, and axial connections from one conveyor to another are available, even at oblique angles. 
Meanwhile, the design of the system has removed the need for intermediate and end bearings, making the need for regular maintenance work less of a pressing issue. The low RPMs of the spiral also extends the life of the system, and with the easily replaceable liner, your organisation can expect excellent performance over a long period from SPIRAC's horizontal conveyor solution. 
As you can see, the horizontal shaftless screw conveyor is a terrific option for all manner of material handling. For more information about this or any of SPIRAC's systems, don't hesitate to get in touch today.