Submitted by

globaladmin

on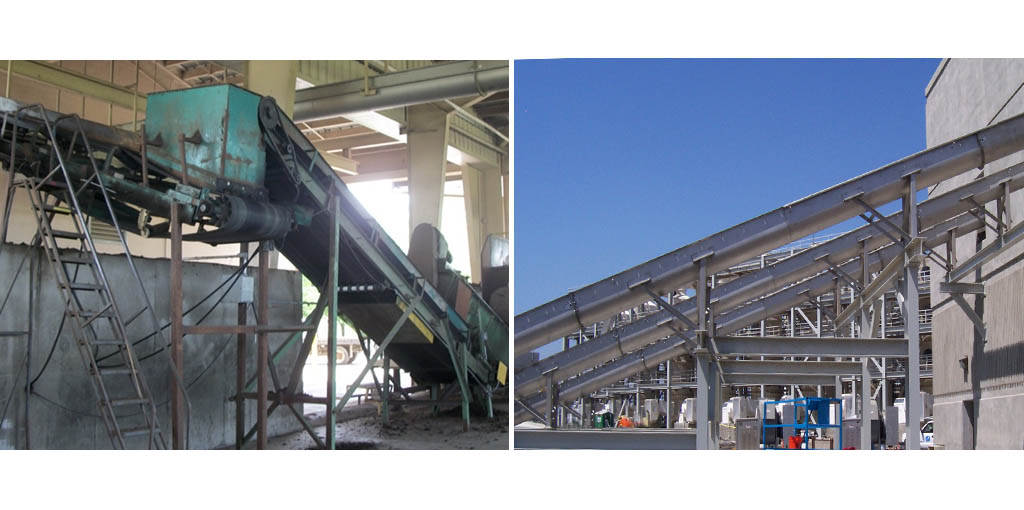 Material handling equipment has been around for as long as there has been machinery - their invention increased solids material handling safety and quantities. If spillage and odour is a concern, and you don't have the space required to accommodate a large footprint, the shaftless spiral conveyor is the best option.
For transporting high capacities, the conveyor belt remains an effective however expensive choice. Suitable operating quantities for conveyor belts can go up to several thousand m3 per hour.
Advantages of the shaftless screw
While the general principle behind both variants of conveyors is the same - moving materials from one location to another - the shaftless screw mechanism unlocked a number of benefits for materials handling facilities. The most observable advantage is also one of the most obvious - the design presents less surface area for viscous material to affix itself to, minimising the incidence of blockages.
The absence of a shaft presents less surface area for viscous material to affix itself to.
Conveyor belts are susceptible to messy material sticking to the surface and potentially falling off the bottom or side. The size and regular maintenance required also makes them difficult to enclose, meaning spills and odours are always a concern, and having so much of the machinery in contact with corrosive substances leaves them vulnerable to damage.
Driving SPIRAC's shaftless spiral conveyors
The mechanical operation involved with a conveyor belt presents its own challenges, issues that SPIRAC's solutions can help your facility avoid. The many moving parts associated with older technology have a tendency to put more strain on the components required to run it, but our shaftless, high-strength alternative rotates at a lower rate with higher torque, resulting in a greatly increased lifespan. 
Further to this, the design of conveyor belts makes it all but impossible to install a system featuring multiple discharge points, at least not without adding additional equipment that can be cumbersome and expensive. Multiple discharge points from the shaftless spiral conveyor are common practice, making for a much more adaptable system to suit the layout of your facility.
Solutions for a range of processes
Shaftless spiral use can go beyond simple conveying technology - SPIRAC also uses the technology in its live bottom and sliding frame silos, keeping material in motion to prevent settlement and bridging. They are an effective, multipurpose system that many facilities can expect to benefit from.
Get in touch with SPIRAC today to see the shaftless screw conveyor at work, and learn how your site can implement the technology.