Shaftless Spiral Conveyors
New possibilities when designing materials handling systems


The unique features of the shaftless spiral (screw) conveying systems manufactured by SPIRAC present new possibilities when designing materials handling systems.
The goal at SPIRAC is to manufacture customisable and durable conveying equipment for those industries that demand the highest-quality solid material handling systems available. There is an array of equipment that can help to make that goal a reality, but at the centre of our offering lies our unique shaftless spiral conveyor.
SPIROLINE® horizontal and inclined conveying via U-trough. SPIROLINE®  can be used for inclines up to 30 degrees.
SPIROLIFT® vertical and inclined conveying via OK-trough. SPIROLIFT®  can be used for inclines above 30 degrees.
SPIRAC's horizontal, inclined and vertical shaftless spiral conveyors - with no intermediate or end bearings, low RPMs and low power usage - are an extremely reliable conveying option. For many facilities, space is at a premium, which is why the shaftless spiral conveyor is designed to integrate into many configurations.
The shaftless spiral (screw) allows higher filling rates and lower RPMs resulting in less wear and consequently less maintenance and downtime. Although the spirals can be made out of many different materials, the primary material is special steel from Sweden which has mechanical properties that give the SPIRAC spiral a very high tensile strength. SPIRAC shaftless spiral conveyors are designed for the transport of otherwise difficult-to-handle materials, such as municipal dewatered sludge, wastewater screenings, grit, industrial sludges and other sticky, viscous, stringy materials.
Material handling can place a lot of pressure on equipment, as many of the industries SPIRAC serves feature harmful, possibly corrosive substances. With a shaftless spiral conveyor, however, maintenance is significantly reduced when compared to traditional conveying methods. The elimination of a central shaft allows a much higher fill rate meaning solutions are more efficient when it comes to conveying, and consequently suffer less wear and power usage.
Shaftless Spiral (Screw) Conveyor Material Transport Demonstration
Shaftless Spiral (Screw) Conveyor Features and Benefits 
Shaftless Spiral (Screw) Conveyor Installation, Operation and Maintenance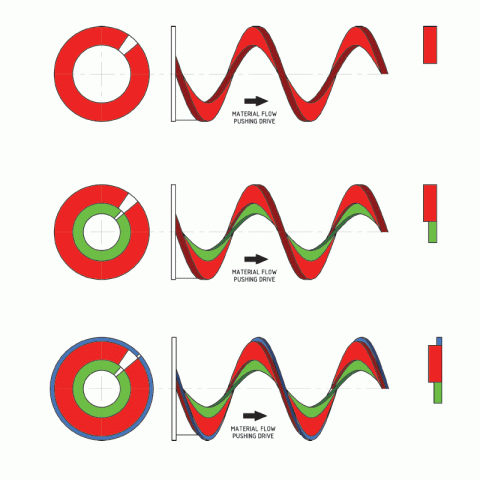 If you are looking to transport easy to transport material horizontal or at a slight incline, we recommend a single section spiral. This kind of spiral is the lightest spiral type and can be used in applications with short lengths and low torque. The addition of a welded insert increases strength and efficiency by reducing material "fallback". It is commonly used for horizontal conveying and for inclines up to 45 degrees. This spiral is suitable for most applications including inclined conveying to transport sludges, screenings and grit. Especially sticky material, for example, some lime amended sludges, where a buildup of product under the spiral is a risk, we would recommend spirals with inserts and a scraping edge. 
The spiral types mentioned above are only the basic types of shaftless spiral conveyors we offer. There is also a wide choice of element cross-sections and spiral pitches and diameters to optimally match the required torque and performance parameters to your application. Selecting the right spiral type and trough are crucial. Talk to us about which shaftless spiral conveyor will be right for you.