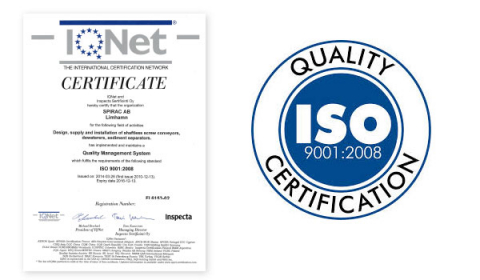 SPIRAC Sweden, is pleased to announce that it has been awarded the coveted ISO 9001:2008 Quality Management Systems certification from the International Organization for Standardization. 
The award certifies all aspects of SPIRAC's business, with specific procedures set in place to evaluate and improve the company's key processes, ensuring that customers continue to receive unparalleled customer service and support.
"SPIRAC is dedicated to providing its customers the highest quality products and service possible. The ISO 9001:2008 certification in Sweden is an extension of that commitment, as we continously standardizing our global practices across all of our offices," says Joakim Ramen, CEO of SPIRAC. "SPIRAC UK is also certified and now that SPIRAC Sweden is as well, it will help us provide a more consistent experience to our customer base in Europe. The certification highlights that SPIRAC has implemented management systems that follows the ISO standards and defines us as a company focused on excellence in management policies, operational processes and continuous quality improvement."
About International Organization for Standardization (ISO)
The ISO 9001 Quality Management Systems Standard is recognized as the world's most successful standard having been adopted by more than one million organizations in 178 countries. ISO 9001 – requires companies to establish and maintain a quality management system: The QMS defines the processes or procedures throughout the company that may affect the quality of the product manufactured.
This certificate is also a significant step for SPIRAC's growth as the ongoing process of maintaining ISO certification will facilitate the company's continued corporate success as it works to meet the standards of excellence set by the organization. By continually striving to identify areas for improvement in operational processes, product quality and customer service, SPIRAC will offer expanding benefits to its clients and greater value to its corporate brand.