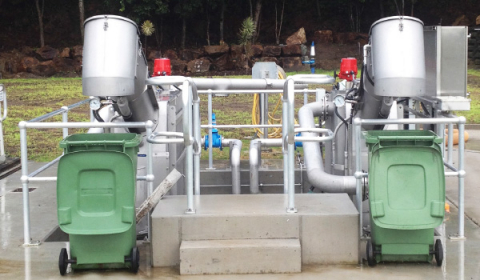 NAMBOUR SEWAGE TREATMENT PLANT Queensland, Australia - Downer Tenix contracted with SPIRAC to provide a complete Septage Receival Station located at the Nambour Sewage treatment plant. This is an unmanned station located outside of the main plant which allows automated access by septic truck companies serving the local and regional communities.
The station receives liquid septage into one of two SPIROGUARD® units where the screenings and oversized solids are removed from the stream, washed, dewatered and compacted into an odour proof Longopac Endless Bag system.  The screened effluent then flows under gravity into the main plant.
One driver can unload a 30 Kiloliters (kl) load of effluent in less than 20 minutes.  The system is activated by an electronic key tag given to each driver.  By placing the key against the sensor on the local panel, a valve opens in the intake line (manually connected to the truck by flex pipe) to allow effluent to flow into the SPIROGUARD®.
An electronic flow meter measures and totalizes the flow to calculate a delivered volume of effluent.  An onboard modem with SIM card sends the information (Tag ID, date/time, litres delivered) to a receiving computer, from which specialty software creates a customer invoice.  
SPIRAC Solution

1. Two SPIROGUARD® CC250-SRU septage receival units

2.Truck docking station

3. Third party card reader and push button activation panel

4.Third party electronic key tag

FEATURES & BENEFITS

- Unmanned operation

- Automatic plug valves prevent unauthorized dumping

- Completely odour and mess contained

- Simple and reliable tag-on/tag-off system

- Reliable and robust screenings washing and dewatering system

- Fully automatic operation

- Low RPM/high strength spiral with brush ensures minimal maintenance or operator intervention required

- Mess and odour containment with bin/bagging endless bag system

- High torque gearbox works with high compression press head and strong spiral to provide maximum dryness and minimum final volume of screenings – reduces landfill costs and trip frequency