27/03/2019
Europe News
Municipal Solutions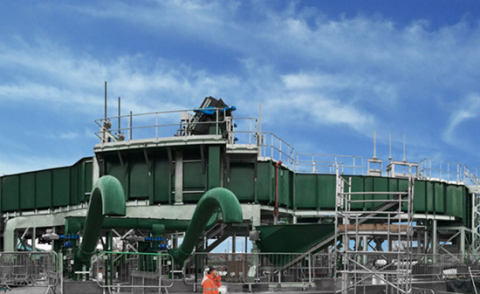 SPIRAC was asked to provide a prefabricated package treatment plant. The plant is built on a galvanised steel support structure elevated approximately 5m above ground level, to enable flows to gravitate through downstream process units. 
SPIRAC designed, supplied, delivered and installed the following equipment on site. Three FINEGUARDTM screens, each capable of passing a maximum flow of 566 l/sec of sewage at a design water depth of 1.0 metres downstream. The FINEGUARDTM Screen consists of a band of perforated screen panels which are secured to drive chains on either side of the panels. On reaching the discharge section of the screen, the screen panels are cleaned of debris by means of a self-adjusting brush mechanism and water spray jets ensuring that clean panels are always presented to the oncoming flow. The screen panels are secured in such a way that replacement of inpidual  panels can be achieved with a minimum of effort and down time. 
Two SPIROWASH®  screenings treatment units transferring screenings from the screens via a launder trough system. The SPIROWASH® units wash out the organic material, reduce the volume and weight of the screenings by compaction before delivering them to a skip via a press tube. 
A Grit Vortex unit removes suspended grit from the sewage flow, this consists of a  pre-fabricated Grit Vortex Chamber – capable of handling up to a maximum 628 l/sec of screened raw sewage flow. The grit is extracted by means of a grit pump  and is fed to a  SANDSEP® grit separator unit capable of handling up to a max of 20l/sec of the grit slurry. The SANDSEP® unit will dewater and discharge grit into a skip.
SPIRAC PRODUCTS USED
Three FINEGUARDTM  screens
Two SPIROWASH® MW-Q280 screenings washer
Grit Vortex VG40
SANDSEP® SA-320 grit classifier