21/08/2018
Asia Pacific News
Europe News
Industrial Solutions
North America News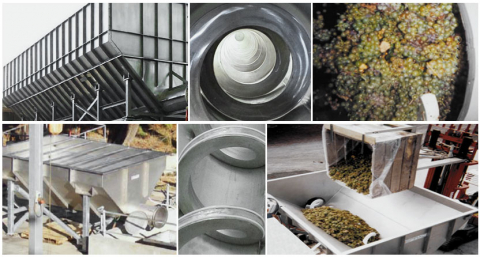 When it comes to grape handling, your equipment needs to suit your wine making process.
So why chose a shafltess screw conveyor to transport your grapes, marc and must? The slow speed and unique action of a shaftless spiral creates a gentle conveying action. A shaftless stainless steel spiral with a food grade outsert guarantees minimal grape degradation and maceration. By eliminating the centre-pipe higher fill rates are achieved, whilst significantly minimising product rotation.
Our grape receival bins can also be designed to drain off the free-run juice and bin sizes range from 1m3 to 30m3. Outloading capacities can be as low as 5 tph up to 100 tph. 
Our equipment has been installed in many Wineries and have been in service for decades. For case studies and/or more information about our grape handling solutions talk to us.