17/09/2020
Asia Pacific News
Europe News
North America News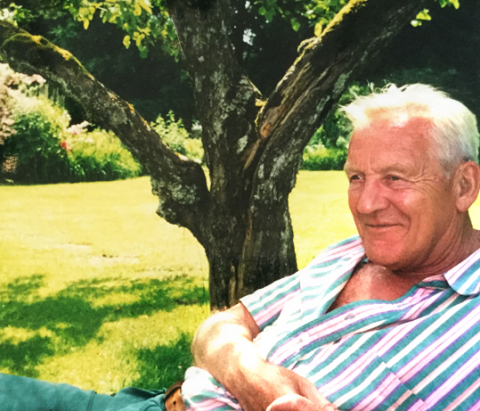 Richard Le Roy Bruke 13 January 1930 – 26 August 2020:
It is with great sadness that I am writing about the passing of Richard Le Roy Bruke, co-founder of SPIRAC.
Richard was born in Chicago, USA to Swedish migrants. Richard's father died just before Richard's first birthday. With no alternative, Richard's mother packed up and moved back to Sweden with Richard in tow. Richard grew up in the small village of Fåglavik, Västergötland. Fåglavik, surrounded by forests, was well known for its production of high-quality handblown glass. Richard grew up amongst these hardworking men. They would tell their stories, there would be much laughter and also much warmth. This followed Richard through life. He was known for his hard work ethic, passion, storytelling and his warm personality. He would greet you with a big smile and a tight hug.
Richard wanted to be a forest ranger, as he loved nature, but was told by the school curator that Sweden needed engineers and that was that. Richard was the first person from Fåglavik to get a tertiary education. He studied engineering at Chalmers, Göteborg.
After graduating, Richard's first job was at ASEA (now ABB) in Västerås, designing cost-effective wood crating and other packaging. Richard had a creative mind and thought outside the box. PLM (now Rexham) a large Swedish packaging company, recognised his talent and offered him a job. His first role was to sort out PLM's patent department. Richard held several positions at PLM before becoming the Managing Director of PLM Miljöteknik (PMT), a subsidiary created to handle the growing household waste problem in Sweden. PMT designed systems for collecting and sorting household waste. PMT needed a system to collect and convey garbage bags to a central point in apartment building complexes. 
There was a small company, IGM, that specialised in manufacturing shaftless spiral conveyors for the automated removal of manure and straw from farm barns. PMT bought IGM and developed a stronger and wider range of spirals as they needed to be installed underground with minimal access over distances of 60 meters. The garbage bags also needed to be conveyed with minimal damage. The spiral lacking a shaft and intermediate bearings allowed for this. Other applications were pursued, and spiral conveying proved to be especially suited to handling sticky and stringy materials such as sludge and screenings at wastewater treatment plants.
In 1984, Richard together with his wife Louise, started SPIRAC Engineering AB and bought the spiral conveying part of the business from PMT. They saw a great opportunity to market spiral products and systems outside of Scandinavia. Richard invented and patented new uses of the spiral such as the SPIROPRESS for dewatering and the SPIROLIFT vertical system. He would, as we still do at SPIRAC, get questions such as how can the SPIROPRESS dewater without a shaft or how can the SPIROLIFT convey vertically? Won't the material fall back through the hole?
Richard travelled the world with two full files filled with overheads as the internet and digitised Powerpoint presentations didn't exist then, to passionately present the advantages of the shaftless spiral. Richard would proudly state that SPIRAC was the First in spiral conveying. Due to Richard's passion and perseverance spiral technology is now accepted and installed globally.
After selling SPIRAC in 2000, Richard and Louise retired, spending much of their time at their summerhouse, where Richard enjoyed tending the gardens. He always felt at peace there, as he could relax and recharge his batteries from the pressures of work and his travels.
Richard's spirit will always live on at SPIRAC.
Joakim Ramén
CEO, SPIRAC Group