08/08/2019
Asia Pacific News
Europe News
Municipal Solutions
North America News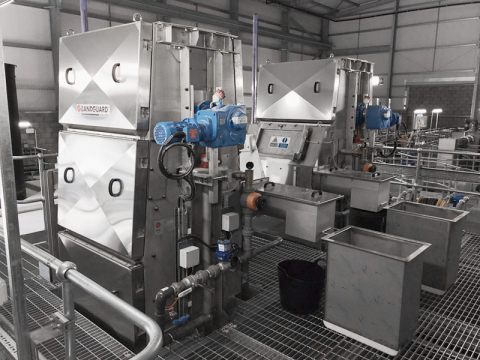 This Water Treatment Plant was built in 1985 and supplies a population of around 200,000 people with drinking water. Raw water quality has deteriorated over time due to the peaty hills the water runs down before being collected in the reservoir. To counteract this, a new first stage treatment process designed to remove the slightly peat tinged colour from the raw water is to be installed, prior to it being treated and sent out to customers. SPIRAC was asked to install two BANDGUARDTM screens to filter debris from the incoming water flow.
With the BANDGUARDTM, out-to-in screening is achieved by passing reservoir water through a vertical band-shaped screen curtain. Outside of the screen panel curtain, solids are retained and transported out of the flow moving the dirty panels from the screening zone to the panel cleansing area, where the screenings get washed into a launder on the side of the screen. The hydraulic flow per screen is 694 l/sec and the screens are made out of 304 Stainless Steel. 
The screen comprises an assembly of stainless steel woven wire mesh panels retained in stainless steel frames, fastened to stainless steel conveyor chains that form a band of panels. Each panel has replaceable side seals manufactured from Ultra-high-molecular-weight polyethylene (UHMWPE) fitted between the chain and panel to effect a close tolerance seal with the chain guide fitted to the screen structure. 
All parties included in the project worked together to deliver a major asset for the area.