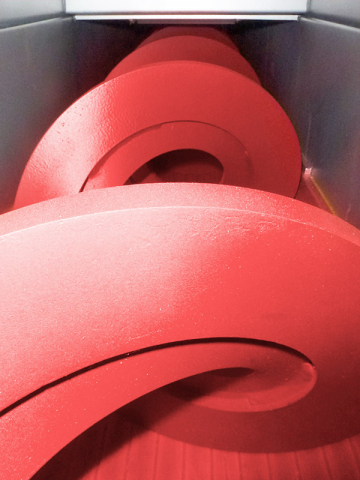 For dewatering applications, the SPIROPRESS® is one of the most effective options. This is a system that combines conveying, dewatering and volume reduction into a single unit.
Coupled with high capacity, efficient operation, and low power consumption - not to mention little need for maintenance - SPIROPRESS® is a powerful municipal dewatering solution.
Recently, SPIRAC updated the SPIROPRESS® to improve functionality, while further reducing costs.
The new and improved SPIROPRESS®
This section will take a closer look at the major changes in the updated SPIROPRESS®.
The spray system uses less water and is more effective.
The Press Basket is now easier to maintain, as operators can simply remove the unit from the front. This is one way SPIROPRESS® reduces maintenance difficulties.
The Press Basket is now perforated as standard, which in turn means it's significantly stronger and more durable.
A wider choice of press baskets is available specifications with slots, perforations or wedgewire arrangements.
While many updated products come with associated price increase, the updated SPIROPRESS® does not. In fact, SPIRAC has been able to reduce the price.
The same advantages
SPIRAC has brought significant improvements to the SPIROPRESS®, but this is still the dewaterer that can satisfy high demands across a range of industries.
In fact, SPIROPRESS® can be used in municipal sewage treatment plants, breweries, abattoirs, pulp and paper industries, industrial treatment plants and food industries. The versatility of SPIROPRESS® enables this wide range of operation - it's as effective handling paper pulp as it is waste water screenings.
SPIROPRESS® brings high capacity operation, simplicity, high efficiency and high reliability.
SPIROPRESS® brings high capacity operation, simplicity, high efficiency and high reliability. It's also a small unit, meaning businesses will find it easy to install SPIROPRESS® where required.
Finally, there's the lack of maintenance, which can help to both reduce the workload required to keep the dewaterer running and cut down on the amount of downtime.
Consider getting in touch with the experts
There are a number of dewatering solutions available on the market, but few can match the capability and reliability of the SPIROPRESS®.
If you'd like to learn more about SPIROPRESS® and the other systems available from SPIRAC, reach out to the team today. We'll be happy to talk you through SPIROPRESS®, including where it can be used and the performance capabilities.