26/05/2023
Asia Pacific News
Shaftless Spiral Conveyors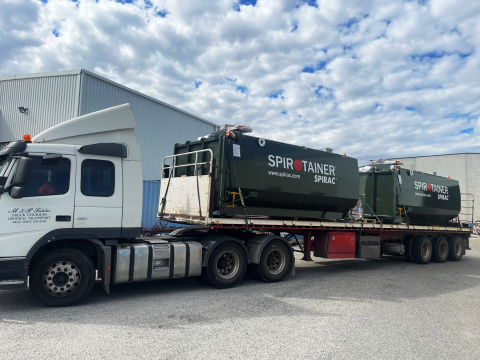 Perth, Australia - State-of-the-art shaftless spiral equipment recently left our workshop in Perth, including two SPIROTAINER® 20m3 units, SPIROGUARD® CC500, SPIROLIFT® OK355 conveyors, SPIROLINE® U355 conveyors, and the innovative COMBIGUARD® CG350 inlet works package.
At the heart of this shipment are two robust SPIROTAINER® 20m3 units. Equipped with high-capacity shaftless spiral conveyors, they ensure seamless handling, streamlining operations with minimal environmental impact. Accompanying them is the SPIROGUARD® CC500, efficiently capturing and separating solid particles using a single moving part, a shaftless spiral conveyor.
Also included is SPIROLIFT®, an OK conveyor that can handle challenging materials vertically, reducing maintenance downtime and boosting productivity. The renowned SPIROLINE® horizontal shaftless spiral conveyor ensures smooth and reliable material movement while minimizing blockages and breakdowns.
Completing the collection is the COMBIGUARD® inlet works package, engineered for screenings and grit removal.
As this equipment begins its journey to various destinations, it promises greater efficiency, sustainability, and environmental responsibility for a greener and cleaner future.